AZORES SEMINAR 2005

Week Two ~ Hotel Aldeia da Fonte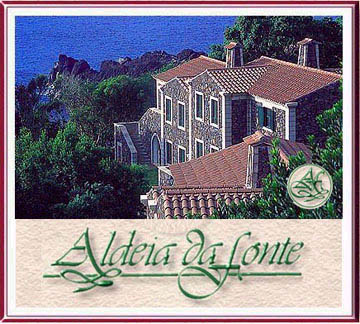 Hotel Aldeia da Fonte is my favorite home away from home! I have traveled around the world and it is this resort in the Azores with its combination of natural beauty and gracious, customer service that excels over all others. The comfortable, spacious suites and the profusely blooming perfumed flower-gardens bring peace to my soul.

Located on the shoreline, Aldeia da Fonte is a haven of lacey shade trees and delightful pathways leading to spectacular, private ocean nooks and little hide-away reading areas. Seating and stairways outdoors, are carved in natural rock formations. The fairies abound here and the night-singing Shearwaters also make this their home.

The cuisine is superb with organic, garden grown vegetables and local fish. An excellent wine menu is available with homemade breads and Portuguese cheese. Their delicious and exotic pastries melt in your mouth.

During this relaxing seminar, immersed in old world charm, we spend days on the well-appointed boats of Aqua Acores of Lajes. The boat owners are seasoned Portuguese captains who have a long-term relationship with Sperm whales and all of the island cetacea. They are gentle sea-faring men and women.

Meeting before and after the boat trips, we meditate, share and remember our spiritual Atlantean lives. The "veil" is very thin here, and our simultaneous existences come through in dreams, conversations and ocean swims. In touch with our Higher Self, we experience Truth in the Beauty around us and remember our enlightened reasons for Being on Earth.

I look forward to attending this beautiful reunion at the E.T. Base known as Pico Island, Azores, with you; and to swimming with you in the deep blue water with many dolphins.

Warm Aloha,
Joan


ALDEIA DA FONTE TRAVEL INFORMATION
Our first group meeting will be held on Pico Island July 17th. From the airport, you will take a taxi to our beautiful Hotel Aldeia da Fonte in the town of Lajes do Pico. Phone number: 351-292-672-777, Fax: 351-292-672-700. We will meet in the Lounge/Library at 2:00 PM.
ARRIVAL
Make your flight reservations to Pico Island, Azores in the Atlantic Ocean near Portugal. Take any taxi to our hotel when you arrive on Pico Island: Hotel Aldeia da Fonte (Phone number: 351-292-672-777). You are responsible for all taxi fees. Approximate costs for a one way taxi is: US and Euro $25.00 - $30.00
For travel assistance within the Azores Islands please phone, fax or email our travel agency: Agencia Acoreana de Viagens SA. Phone: 351-296-301859. Fax: 351-296-301873. Email: Elidia.Viveiros@bensaude.pt
The person to speak with is Elidia.
MEETING
The Dolphin Connection seminar begins on Sunday, July 17, 2005. We will convene in the hotel's library lounge at 2:00 pm to introduce ourselves and discuss our schedule for the seminar. A short walk to a salt water lava pool will give us the opportunity to practice snorkeling. At 7:30 pm, we will enjoy a delicious dinner in the hotel restaurant. Every evening together is special, as we share gourmet meals and our joyful experiences of the day.
DEPARTURE
Our Dolphin Seminar ends at noon on Friday, July 22nd.
The ride to the airport takes nearly one hour, so please allow time in your schedule for hotel check-out and travel. If you would like to extend your stay, please contact the hotel directly:Hotel Aldeia da Fonte (Phone number: 351-292-672-777 or Fax: +351-292-672-700 Email info@aldeiadafonte.com
REFUND POLICY
There will be no refunds for late arrivals or early departures. In the case of emergency cancellation, you will only receive a refund if another person fills your space (minus the US$500 non-refundable deposit).
These reservations are made and paid for, well in advance of our arrival.
Thank you for understanding this. We look forward to seeing you soon.
AZORES PHOTO ALBUM FROM 2003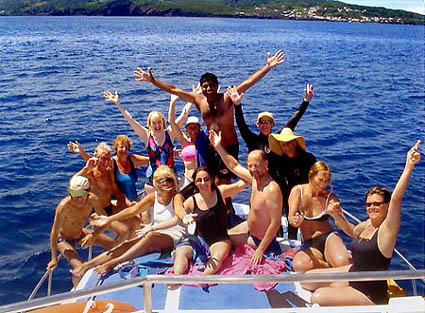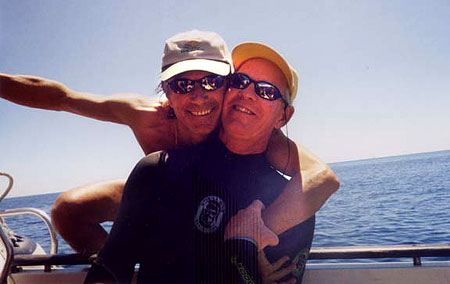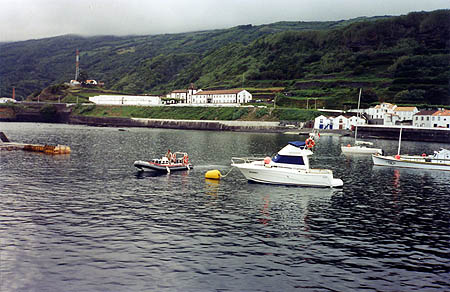 Lajes do Pico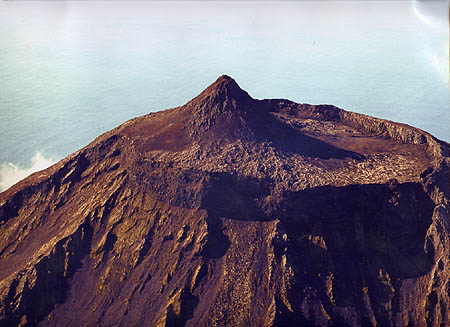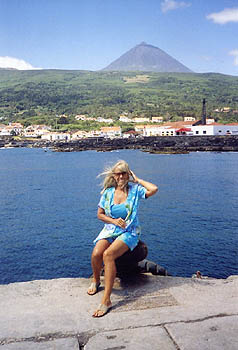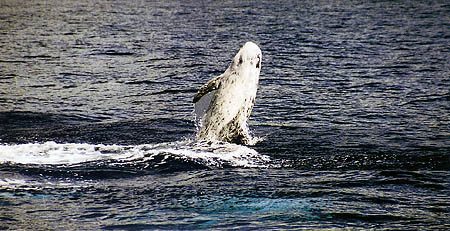 Risso's Dolphin, ©Mario Rui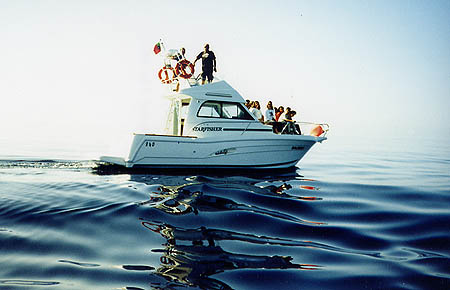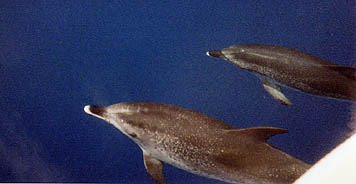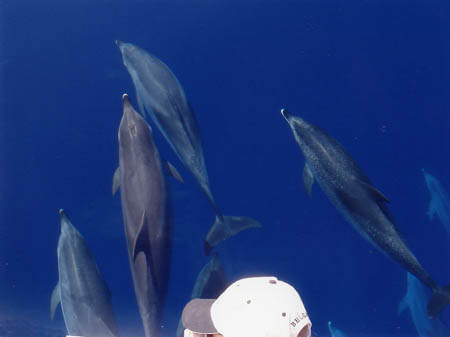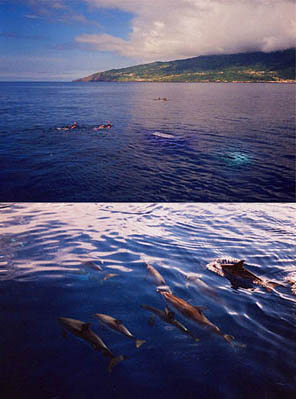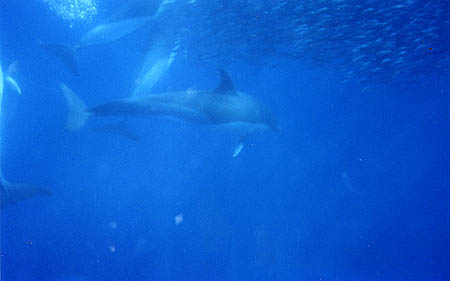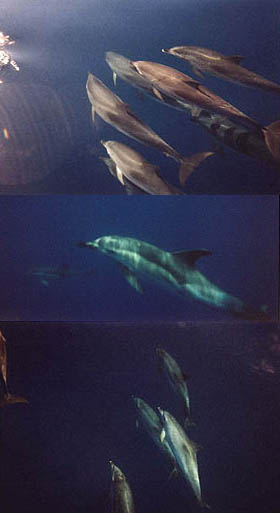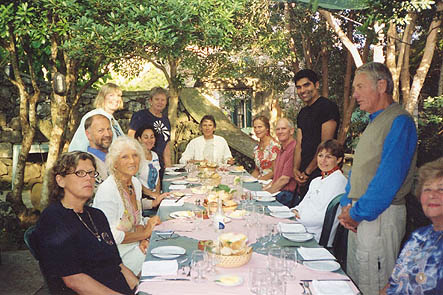 Blessing before dinner